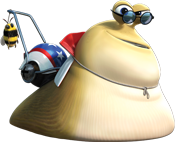 (The) White Shadow is one of the characters in the film Turbo.
Information
Full of false bravado and real laughs, White Shadow considers himself to be fast like a shadow - forgetting that blurs are inherently fast than shadows.
Personality
Shadow considers himself to be fast like a shadow. He always forgets that blurs are faster than shadows.
Trivia
Shadow's shell color is red, white and blue.
Shadow's shell has stars on it, possibly making the number on it 2.
Shadow has a bumblebee which was hanging on his back and a wing cuffet on his helmet.
White Shadow is played by Michael Bell in the film, and the series and a video game.
White Shadow is part of Whiplash's crew.
White Shadow is the only snail that wears glasses.
White Shadow's shell is based on Evel Knievel's motorcycle, but he is the only racer with a "monster truck" shell.
He was originally voiced by Chris Hardwick.
Gallery
Ad blocker interference detected!
Wikia is a free-to-use site that makes money from advertising. We have a modified experience for viewers using ad blockers

Wikia is not accessible if you've made further modifications. Remove the custom ad blocker rule(s) and the page will load as expected.