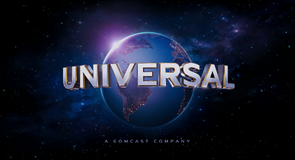 Universal Studios is a American film studio founded in 1912. It was owned by NBCUniversal division of Comcast.
This company was the film (outside of America) and video distributor for DreamWorks live action titles and DWA titles (Back when DreamWorks Animation was a division of DW before it was spun off in 2004.) until DreamWorks was sold to Paramount Pictures in 2006, at which point Paramount took over distribution. After Viacom spun off DreamWorks Studios in 2008, Universal Studios was planned to resume distributing DreamWorks' movies, but this deal fell through. In April 2016, Comcast (which owns Universal Studios) purchased DreamWorks Animation for $3.8 Billion. It is therefore likely that when the current distribution deal with 20th Century Fox finishes, DreamWorks Animation's films will be distributed by them.
Ever since DreamWorks Pictures started, the studio had rented space from Universal Studios on their backlot. This continued through the Paramount and Touchstone eras.
Divisions
Edit
Filmography
Edit