Ad blocker interference detected!
Wikia is a free-to-use site that makes money from advertising. We have a modified experience for viewers using ad blockers

Wikia is not accessible if you've made further modifications. Remove the custom ad blocker rule(s) and the page will load as expected.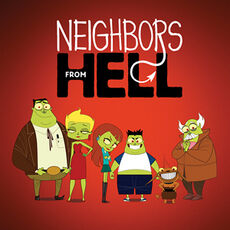 Neighbors from Hell is an adult animated sitcom that premiered on TBS on June 7, 2010. The series is produced by DreamWorks Animation. However, the majority of the animation is produced by Bardel Entertainment.
The series revolves around a family of demons who move to Houston, Texas from the underworld on a mission to destroy a drill that can dig to the Earth's core, and they face a culture shock trying to fit in with humans. They also realize that the humans can be as bad as the demons, and that Earth is almost no different from hell.
Episodes
| Episode Number | Title | Original Air Date |
| --- | --- | --- |
| 01 | Snorfindesdrillsalgoho | June 7 2010 |
| 02 | Country Club Hell | June 14 2010 |
| 03 | Gay Vampire Mexican | June 21 2010 |
| 04 | Screw the EPA | June 28 2010 |
| 05 | Family From Hell | July 5 2010 |
| 06 | Guns For Mutts | July 12 2010 |
| 07 | Robert the Insult Weight Loss Robot | July 12 2010 |
| 08 | Wolf Power | July 19 2010 |
| 09 | Attila the Rascal | July 19 2010 |
| 10 | Fantastic 15 | July 26 2010 |