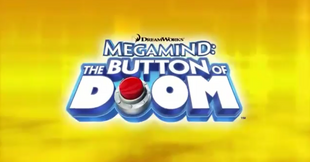 Megamind: The Button of Doom is a short film released with the Megamind DVD and Blu-Ray Combo Pack on February 25, 2011.
Synopsis
For their first day on the job as the new protectors of Metro City, Megamind and Minion are selling off the gadgets from their evil lair. But when one seemingly harmless "button" unleashes the gigantic robot MEGA-MEGAmind, the duo will have to resort their old tricks to restore order in this all-new action-comedy from DreamWorks Animation.
Cast
Gallery
Ad blocker interference detected!
Wikia is a free-to-use site that makes money from advertising. We have a modified experience for viewers using ad blockers

Wikia is not accessible if you've made further modifications. Remove the custom ad blocker rule(s) and the page will load as expected.