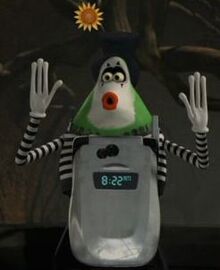 Marcel Marceau the Frog Mime (or simply known as "Marcel" or "Mr. Mime" by Roddy) is a frog mime, who made his debut in the movie, Flushed Away. He never speaks in the episodes, although in the film, when The Toad slaps him away, Marcel can be heard screaming in the background.
Marcel wears a jacket with black and white stripes, a black top hat with a yellow flower in it, white gloves, white makeup with red lips, and black circles and small triangles around his eyes.
Marcel only appears whenever Le Frog calls for him.
In the movie, Marcel had a cellphone in his belt to reveal The Toad. He is voiced by Frank Welker.
Ad blocker interference detected!
Wikia is a free-to-use site that makes money from advertising. We have a modified experience for viewers using ad blockers

Wikia is not accessible if you've made further modifications. Remove the custom ad blocker rule(s) and the page will load as expected.