Ad blocker interference detected!
Wikia is a free-to-use site that makes money from advertising. We have a modified experience for viewers using ad blockers

Wikia is not accessible if you've made further modifications. Remove the custom ad blocker rule(s) and the page will load as expected.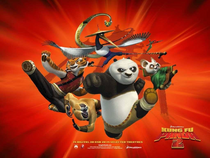 The Kung Fu Panda franchise consists of 6 feature films: Kung Fu Panda (2008), Kung Fu Panda 2 (2011), Kung Fu Panda 3 (2016), Kung Fu Panda 4 (20--), Kung Fu Panda 5 (20--) and Kung Fu Panda 6 (20--). In this movies, Po (voiced by Jack Black) wants to be a Dragon Warrior after Oogway chooses him to stop any villain doing bad things to the Valley of Peace. At first, the Furious Five didn't like it but they accept him.