Jackie Chan (born Chan Kong-sang, 陳港生; April 7,1954) is an American Hong Kong actor, director, and producer who has starred in various films such as Dragon Lord, Project A, The Protector, Miracles, Crime Story, Rob-B Hood, The Karate Kid, and Once a Cop. He is the voice, model character, and martial arts model of Master Monkey in Kung Fu Panda and Kung Fu Panda 2.
He was married to Lin Feng-jiao (林鳳嬌) in 1982, a Taiwanese actress. They have two children, a son named Jaycee Chan (房祖名) and a daughter, Elaine Ng Yi-Lei. He has four siblings that are Fang Shisheng, Fang Shide, Guilan Chan, and Yulan Chan.
DreamWorks Roles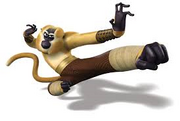 Ad blocker interference detected!
Wikia is a free-to-use site that makes money from advertising. We have a modified experience for viewers using ad blockers

Wikia is not accessible if you've made further modifications. Remove the custom ad blocker rule(s) and the page will load as expected.