Home
Talk

0
1,860pages on
this wiki
Home

'
Film information

Directed by

Produced by

Chris Jenkins
Suzanne Buirgy

Written by

Tom J. Astle
Matt Ember

Studio

DreamWorks Animation SKG

Distributed by

20th Century Fox

Release Date(s)

March 27, 2015

Language

English
Home
(developed as "Happy Smekday") is a 2015 computer animated sci-fi comedy buddy film that will be DreamWorks' 31st feature film. It's based on a book "The True Meaning of Smekday" by Adam Rex.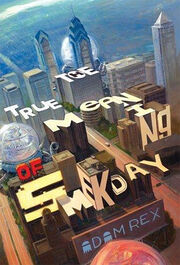 Plot
An overly optimistic alien race named Boov, and its leader, Captain Smek, invades Earth to hide from their mortal enemy and make it a new home. Convinced they are doing a favour, they begin to relocate the human race but one resourceful girl, Tip, manages to avoid capture. When on the run, she is accompanied with a banished Boov, named Oh, who accidentally notified the enemies of his whereabouts.
Trivia
Dreamworks Animation created a prequel short in front of Mr. Peabody & Sherman and Blue Sky Studio's Rio 2 called "Almost Home".
The movie was originally going to be released on November 26, 2014, but on May 20, 2014, it was pushed back to March 27, 2015, switching places with The Penguins Of Madagascar.
Gallery
Cast