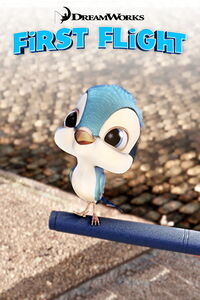 First Flight is a 2006 computer animated short film produced by DreamWorks Animation. It was written and directed by Cameron Hood and Kyle Jefferson.
Plot
The film tells the story of a fastidiously organized businessman, whose perspective on life is forever changed through an unexpected encounter with a tiny fledgling bird.
Cast
Estelle as Blossom the bluebird.
Jon Spinogatti as Swift/Bus Driver.
Trivia
Ad blocker interference detected!
Wikia is a free-to-use site that makes money from advertising. We have a modified experience for viewers using ad blockers

Wikia is not accessible if you've made further modifications. Remove the custom ad blocker rule(s) and the page will load as expected.