Father of the Pride
Talk

0
1,839pages on
this wiki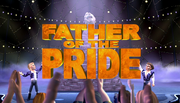 Father of the Pride is an American computer-animated television series that aired on NBC on August 31, 2004. It was produced by Jeffrey Katzenberg and DreamWorks Animation. Despite heavy promotion, the series was unsuccessful and was immediately cancelled as a result. Transmission and production were also delayed by the real-life on-stage mauling of Roy Horn.
The show revolves around a family of white lions, with Larry (John Goodman), the show's main protagonist, starring in Siegfried Fischbacher (Julian Holloway) and Roy Horn's (David Herman) show in Las Vegas.
History
Coming soon!
Episodes
The episodes are listed below in order as they were produced, with airdate given.
Episode Number
Title
Original Air Date
01
"Original Pilot"
Unaired
02
"Sarmoti Moves In"
December 28, 2004
03
"Catnip and Trust"
September 14, 2004
04
"What's Black, White and Depressed All Over"
August 31, 2004
05
"Larry's Debut and Sweet Darryl Hannah Too"
September 7, 2004
06
"And the Revolution Continues"
September 28, 2004
07
"The Thanksgiving Episode"
December 28, 2004
08
"One Man's Meat Is Another Man's Girlfriend"
October 26, 2004
09
"Donkey"
September 21, 2004
10
"Possession"
October 12, 2004
11
"Road Trip"
December 28, 2004
12
"Rehabilitation"
December 21, 2004
13
"Stage Fright"
May 22, 2005 (UK)
May 27, 2005 (US)
14
"The Siegfried and Roy Movie Fantasy Experience Movie"
May 29, 2005 (UK)
Unaired (US)
15
"The Lost Tale"
Unaired
Voice cast
Release
Reception
Coming soon!
Home media
Father of the Pride was released in stores on DVD, with The Complete Set.[source?]
Theme song
Coming soon!
Lyrics
Coming soon!
Revival
It is currently unknown when NBC will re-air Father of the Pride with new seasons and such.[source?]
Trivia
Father of the Pride was marketed as "From the Creators of Shrek," even though the show was aimed more at adults. This caused problems, with angry parents sending in letters to NBC over the adult jokes in the show.
Gallery
Coming soon!