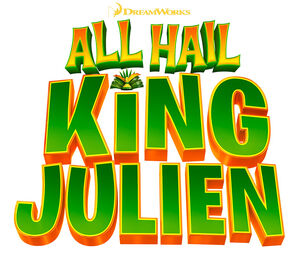 All Hail King Julien is an American computer-animated television series. It stars characters from the DreamWorks Animation animated film Madagascar. It stars the lemur King Julien (Danny Jacobs) from the Madagascar franchise, which takes place in Madagascar, before the events of the first film. The series debuted on December 19, 2014 on Netflix when the first five 22-minute episodes were released.
Episodes
My dear Foosa
Diapers are the new black
Crimson and Clover
Pineapple of my Eyes
Gimme Gimme Gimme: The game
Body Double
Election!
Daddy Julien
That's sooo Rob
The Man in the Iron Booty
Monkey Planet
True bromance
The King who would be King
Are you there Frank? It's me Julien
The Phantom of Club Moist
King juli-END?
EP 1(rerun)
EP 2 (rerun)
Gallery
Ad blocker interference detected!
Wikia is a free-to-use site that makes money from advertising. We have a modified experience for viewers using ad blockers

Wikia is not accessible if you've made further modifications. Remove the custom ad blocker rule(s) and the page will load as expected.